Learn about the most important requirements and devices of factory warehouse supplies to keep cold and save energy in Saudi Arabia through the following lines.
Factories, warehouses and cold rooms suffer from many problems due to the frequent opening of doors, and these problems do not stop at disrupting the comfort of employees and workers, but rather raise the costs of electrical energy significantly and thus increase the operating costs of the factory, so air curtains, which are sometimes referred to as ventilation systems or shop door fans, are the best solution to save energy and save the required temperatures inside the cold rooms by up to 80%.
If you need to know more about the importance of air curtains for your factory or laboratory in order to keep cool and save energy, read on with us to get the conclusion.
Read about Stavoklima air curtain in Saudi Arabia
What are the requirements and devices for factory warehouses to keep cold and save energy?
Air curtains are one of the most important requirements and devices for factory warehouses to keep cold and save energy, as they prevent the mixing of hot air from outside with cold air inside factories or cold rooms, and they protect products and provide a better working environment, in addition to preventing moisture from entering and forming ice due to hot air, which makes visibility better and facilitates work for employees.
In addition, it prevents the entry of dirt, dust, and insects through the air barrier that it forms at the entrance and loading doors without affecting the traffic of people or trucks, unlike plastic slats that block vision and hinder movement.
Industrial air curtains are used in factories, factories and cold stores in addition to loading doors in order to save energy and effort in opening and closing doors when entering, exiting and passing trucks.
Read also: How to save energy in manufactory, factories and warehouses through air curtain in KSA?
What is the role of air curtains or ventilation systems in factories?
Here is the importance of air curtains or ventilation systems for factories, laboratories and cold rooms:
Air curtains are installed on loading doors, cold rooms and factory entry and exit doors.
It formed a durable, invisible air barrier that acts as an air barrier between the environment of the place indoors and the polluted and hot air outside.
Air curtains save electrical energy as they prevent hot air from entering when doors are opened, which reduces the effort on air conditioning and cooling devices.
Prevents the formation of ice or fog inside cold warehouses and rooms, which provides greater comfort and safety for employees while working.
Air curtains allow full visibility, which prevents any potential accidents, and therefore are a necessary factory requirement for public safety.
It saves time and effort as it does not constitute an obstacle to the movement of pedestrians and cars when transporting goods, in contrast to the movement of opening and closing doors.
It protects products, especially food and medical factories, as it maintains the purity of the air inside the laboratory and prevents the entry of germs and bacteria.
Read also: What is the benefit of air curtains for cold and freezing rooms in Saudi Arabia?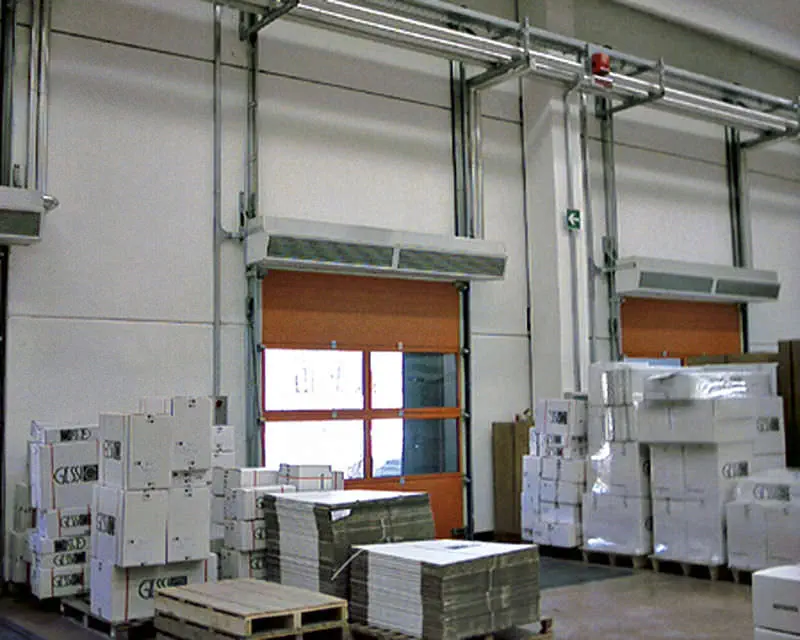 What are the types of air curtains for factories?
Air curtains are characterized as one of the most important requirements and devices of factory warehouses in Saudi Arabia by being durable-made, with strong performance that suits the harsh nature of factories and manufacturing, and therefore they withstand work 24 hours a day without any interruption and with the same efficiency of work, and their life span is longer than regular air curtains. As for its types in Saudi Arabia through the leading company Stavoklima, which worked on installing air curtains for the largest manufactory and factories in the cities of Saudi Arabia, it is the Axi industrial air curtain. Here's more information about this curtain:
Advantages of Axi Industrial Air Curtains:
Here are the most prominent features of Axi industrial air curtains from Saudi Stavoklima company:
Axi industrial air curtains are available in four types and each type has four different sizes to suit the sizes and heights of factories and laboratory doors in Saudi Arabia.
Factory and laboratory air curtains withstand the harshest freezing and hot temperatures from -40 to +97.
It creates a solid air barrier that prevents the entry of insects, dust and dirt, and isolates the internal environment of the plant from the external environment by 95%.
The Axi Industrial Air Curtain does not need regular cleaning or maintenance as it is designed to withstand tough environments.
It operates underwater due to its sturdy metal structure and German-made propellers.
Read also: How to import wholesale commercial and industrial air curtains in Saudi Arabia?
Air curtain projects for factories from Stavoklima in Saudi Arabia
Below we have collected for you some of the air curtain projects for factories from Stavoklima in Saudi Arabia that you can view and contact us to make your factory environment more comfortable and saving.
Order the best air curtains from Stavoklima
1. Air Curtains in MediServe Factory:
The Mediserv factory works within the health field and the pharmaceutical industry in particular, and therefore it is in dire need of maintaining cleanliness and sterilization inside the factory, and due to the location of the factory overlooking an open area, there was concern about the entry of air loaded with dust, dust, and insects, in addition to the factory's great need to control certain temperatures required by pharmaceutical supplies, and therefore the supervisors of Mediserv Company communicated with the Stavoklima team for air curtains, and all previous concerns were finally overcome by installing industrial air curtains type Axi on Factory doors and cold rooms.
The factory was able to maintain a sterile, safe and comfortable working environment in addition to preventing the entry of insects or dust by 100%.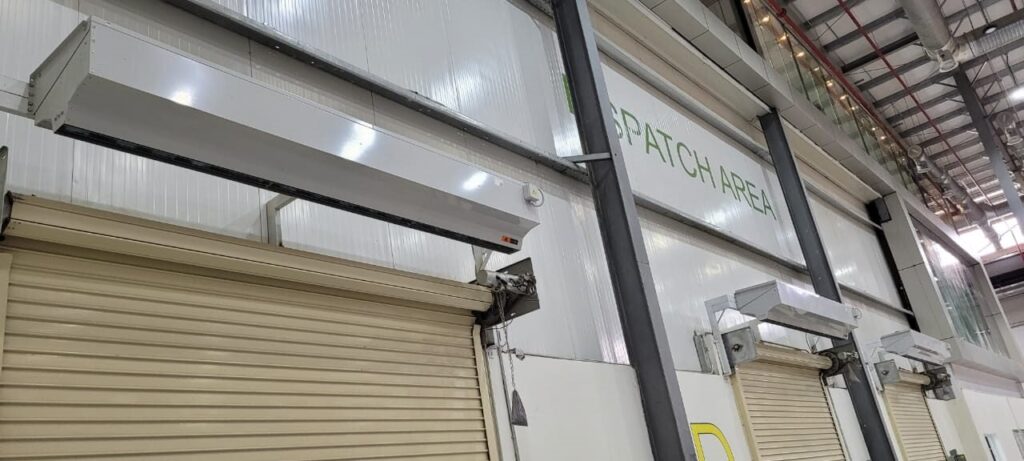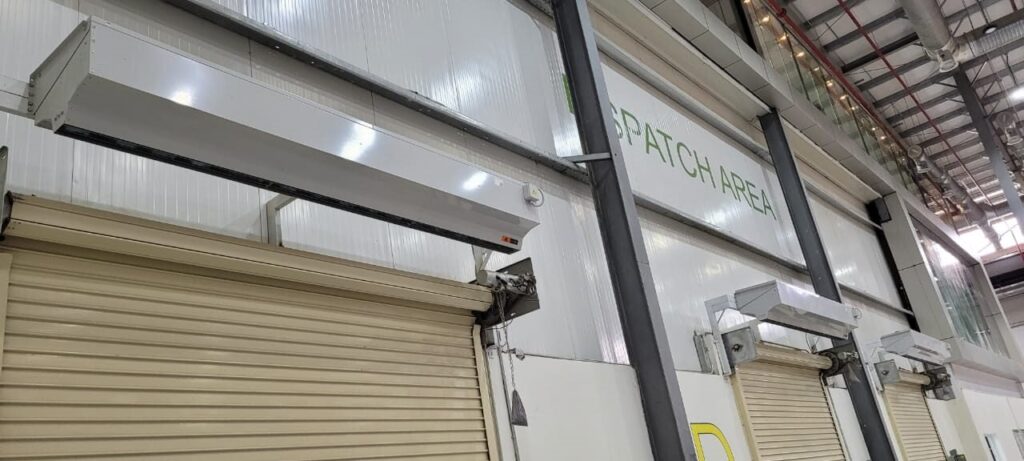 2. Air curtains of Aquat factory for food industries:
The challenge of Aquat Food Industries Factory was that its loading doors overlook large areas from the outside, in addition to overlooking several sections inside the factory. Since it produces hundreds of fast food and works mainly on the manufacture and preparation of food, frequent opening of doors may cause dust or insects to enter, in addition to forming internal moisture and wasting electrical energy. Therefore, the solution was to install industrial air curtains from Stavoklima to maintain the level of work of Aquat company in its method of work in terms of sterilization, cleanliness, and unique taste.
Indeed, the Stavoklima team completed the project to the fullest and the client was very satisfied and impressed with the results, especially since he was able to solve all his problems once and for all.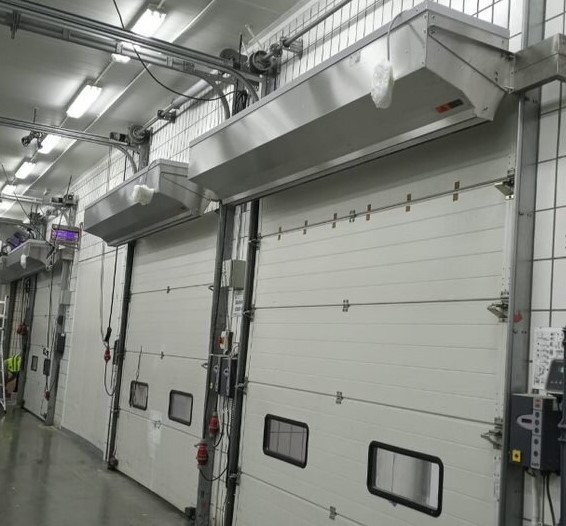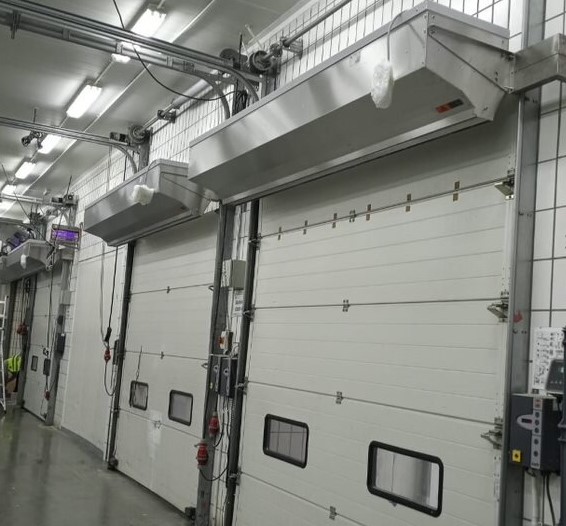 3. Air curtains in the warehouse of the National Poultry Company:
The store of the National Poultry Company faced many challenges, starting with its open area on hot air, which enters the store, causing a rise in its temperatures, which constantly raises the costs of electrical energy, in addition to the biggest challenge, which is the formation of ice in the cold rooms due to hot and humid air, but after visiting the specialized Stavoklima team, The engineers determined the types of air curtains needed according to the warehouse environment and they were installed in the best way, and the warehouse environment became very comfortable and enabled the customer to save electrical energy and save cold as it should.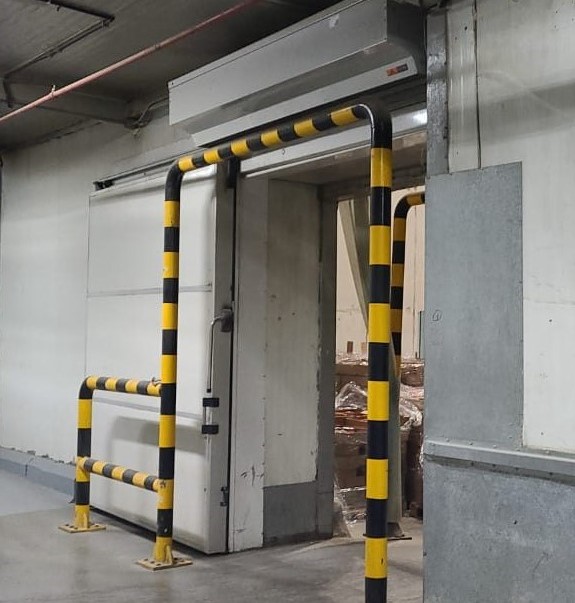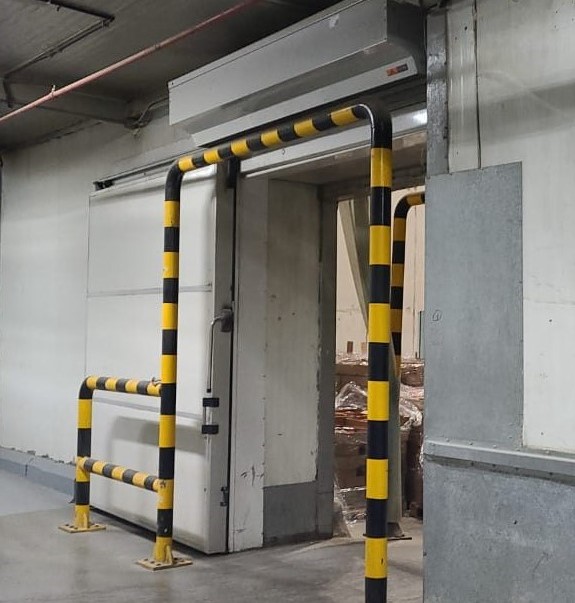 air curtain installation for the doors of factories, warehouses, and stores
Stavoklima specializes in buying, installing, and maintaining air curtain doors of factories, warehouses, and stores, if you suffer from the entry of dust, insects, and dust, or you notice high costs of electrical energy, you can contact us via the WhatsApp icon that appears on the screen to get the most appropriate solutions.
Buy the best air curtains for your factories and stores from Stavoklima
Stavoklima provides you with the most suitable solutions for laboratories, factories and cold rooms
Stavoklima Saudi European air curtains provide the most suitable solutions for laboratories, factories, and cold rooms, whatever the shape and height of the doors in your factory, the Stavoklima team has a vision and experience that enables it to choose the most appropriate air curtain for your climate, and the best air curtain supplier in Saudi Arabia, air curtain door and ceiling mounted air curtain contact us now to know more about air curtain details, air curtain installation, and to save electric energy costs and raise the level of your work. 
Resources: