Noise pollution is a modern environmental problem that affects our mental and physical health. It has become crucial to take measures to reduce noise pollution, and one of those measures is the use of air curtains. Air curtains help reduce noise pollution in commercial and industrial buildings.
This article discusses the benefits of using air curtain in Saudi Arabia and the best types to reduce noise pollution. It also discusses how to reduce noise pollution with Stavoklima on many important projects in Saudi Arabia.
What is noise pollution?
Noise pollution, also known as sound pollution, is the presence of excessive or unwanted sound in the environment that can be harmful to both physical and mental health. This may include sounds from traffic, construction sites, industrial machines, and various human activities that can cause numerous unwanted issues.
Effects of noise pollution inside commercial and industrial buildings on human health
In commercial and industrial buildings, noise pollution refers to the excessive noise produced inside these buildings due to different industrial machines, equipment, and systems such as motors, fans, compressors, and other machines that produce high levels of noise.
According to the World Health Organization, noise pollution is one of the most dangerous environmental threats to human health. According to the European Environment Agency, noise is responsible for 72,000 hospital admissions and 16,600 premature deaths every year in Europe alone. The negative effects of noise pollution inside commercial and industrial buildings on human health include:
Physical Effects and Diseases: Exposure to noise pollution can lead to respiratory diseases as well as an increased heart rate, high blood pressure, headaches, and ear ringing. Centralized noise exposure may also cause gastritis and colitis with cardiovascular problems.
Psychological Effects: Noise pollution causes stress, fatigue, and anxiety, which can lead to exacerbated medical conditions such as depression and hysteria.
Communication Difficulties: Noise pollution can interfere with communication, making it difficult to hear or understand speech, which naturally hinders communication with the environment.
Sleep and Behavioral Disorders: Noise levels above 30 decibels prevent people from sleeping properly, and high noise levels can also cause aggression and irritation.
Memory and Concentration: Noise pollution affects memory and concentration, leading to decreased performance over time. It may also make it difficult to study and remember information.
Reduced Productivity: Noise pollution can decrease productivity in the workplace, where it may be difficult to concentrate and perform tasks in a noisy environment."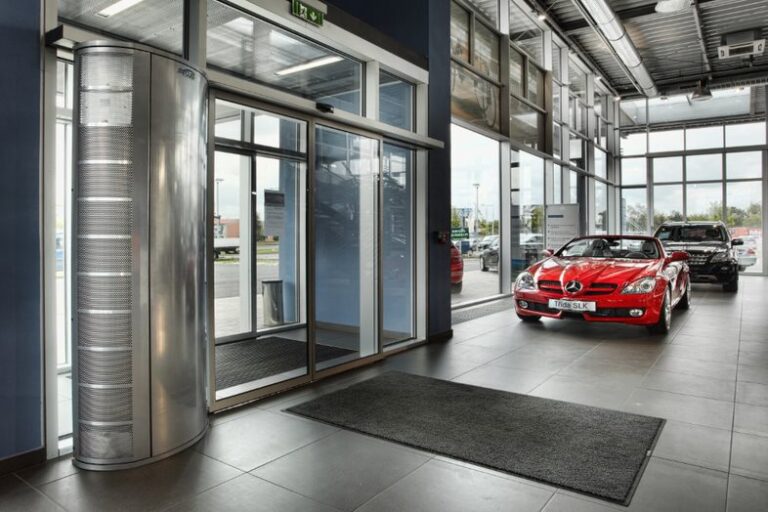 How do air curtains reduce noise pollution inside commercial and industrial buildings?
Air curtains are an advanced technology used in commercial and industrial buildings to control airflow between two spaces while preventing the transfer of heat, cold, dust, and pollutants. While their primary function is to maintain a comfortable indoor environment and improve energy efficiency, they can also help reduce noise pollution inside these buildings.
Low noise air curtain can also help reduce noise pollution by containing noise in a specific area of the building. For example, in a noisy factory or production facility, air curtains can be used to create a barrier around a machine or a specific work area, effectively eliminating noise in that space and reduce overall noise in other areas of the building.
Benefits of using air curtains to reduce noise pollution inside commercial and industrial buildings
Air curtains are a technology that assists in reducing noise pollution inside commercial and industrial buildings. Here are industrial noise control benefits:
Reducing air conditioning noise: Air conditioning units can produce significant noise that strains workers and customers. Air curtains can help reduce this noise by maintaining moderate temperatures inside the building and thus significantly reducing the need for these units.
Reduce the need for air hoods: Large extractors are used to control smoke and steam spread in many facilities. These turbines can be noisy and tiring. Air curtains can help reduce the need for air extractors and thus eliminate noise associated with these devices.
Insect control: Air curtains can also reduce the need for annoying insect control methods, such as insecticides or high-pitched insect traps. By creating an air barrier, air curtains can prevent insects from entering the building through open entrances.
Improving comfort and productivity: Reducing noise pollution using air curtains can significantly improve workers' comfort and productivity, leading to employers' comfort. The primary purpose of air curtains is to create a more comfortable, less distracting, and less stressful work environment.
Specialized use: Air curtains are versatile and can be used in a wide range of commercial and industrial environments, where they can be custom-designed to meet the specific needs of the workplace to help reduce noise in the most optimal way, as they can be integrated into the building's infrastructure, making them compatible with the place's design and decor.
The best types of air curtains for reducing noise pollution in Saudi Arabia
Stavoklima's air curtains offer an efficient noise curtains industrial and solution to reduce effects of industrial noise pollution in buildings and facilities in Saudi Arabia. Here are some of the best types of air curtains available on the Saudi market, along with important technical specifications to help you choose the most suitable one for improving your quality of life and work and to know how to reduce noise pollution in industries:
1. Li2 air curtain:
Li2 air curtain stands out with its low noise level that works to improve sound quality inside the facility. By using Li2 air curtains, you can improve air and sound quality inside the place and enhance workers' comfort and productivity. It also provides effective protection against external pollution and helps reduce the auditory noise resulting from the use of heating and cooling systems.
2. Li Pico air curtain:
The Li Pico air curtain provides a comprehensive and effective solution to provide continuous ventilation in the room. It delivers a clean and refreshing indoor environment while reducing outdoor air leakage and harmful factors and providing reliable performance without causing any sound disturbances to the surroundings, making it an ideal choice for different industrial and commercial facilities seeking ventilation solutions without noise.
3. Li0 air curtain:
The Li0 air curtain comes with four different speeds to suit any external weather conditions. Additionally, it offers high protection for buildings against variable air pressure and is equipped with advanced fans to improve indoor comfort. One of its most essential benefits is that it does not emit any sound, no matter how long it runs, and provides effective sound insulation in the room.
How Stavoklima helped reduce noise pollution for many important projects in Saudi Arabia
Stavoklima's European air curtains are known for their quality and efficiency, making it one of the leading companies in helping customers reduce air pollution and noise pollution. Therefore, here are some of the projects implemented:
1. Vending Machine Company:
Vending Machine Company is one of the leading companies in food production and services with the best Italian machines, devices, and technology. They have faced many problems, including temperature changes inside the factory due to air entering from outside. The Li2 air curtain helped to maintain a clean and pollution-free environment inside the facility and contributed to reducing noise pollution due to its high insulating abilities in addition to its low noise emissions.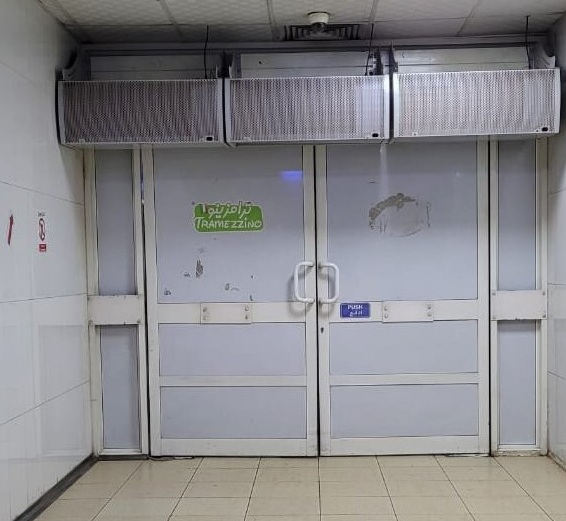 2. Care Store:
Care store is one of the largest specialized stores for skin and body care, offering a wide range of high-quality products designed to meet everyone's needs. With frequent opening and closing of the doors, it becomes challenging to maintain a healthy and clean environment inside the store, and the level of air pollution and noise infiltration from the street into the store increases. To solve this problem, the store used the "Li Pico air curtain," which helped achieve the best results in purifying air, providing a comfortable atmosphere, and reducing noise to the maximum limit.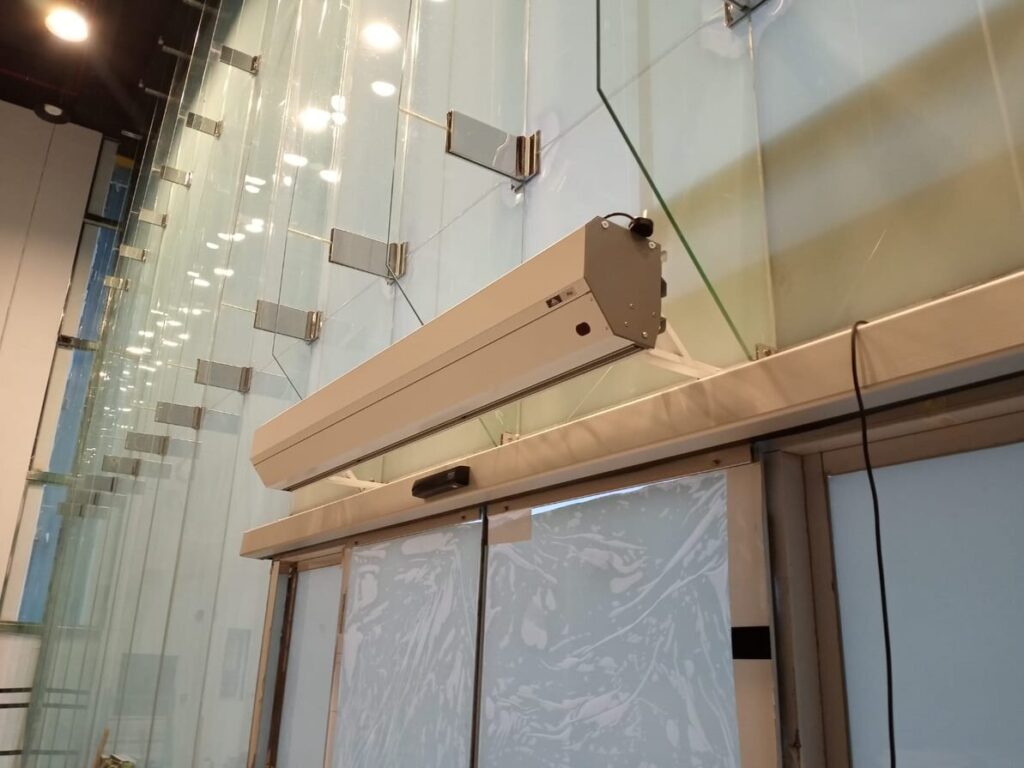 3. Mashhour Eye Experts Center:
Mashhour Eye Experts Center is a specialized medical center in ophthalmology and eye surgery, characterized by its commitment to achieving the highest standards of cleanliness, quality, and comfort for patients. To achieve these standards, the latest European technologies were used, including the "Li0 air curtain," which maintains a fresh and clean atmosphere inside the center. These curtains are also characterized by their sound insulation property, which helps to provide a comfortable environment for patients and visitors. In this way, the center ensures the provision of the best medical and surgical services at the highest levels of quality, comfort, and cleanliness.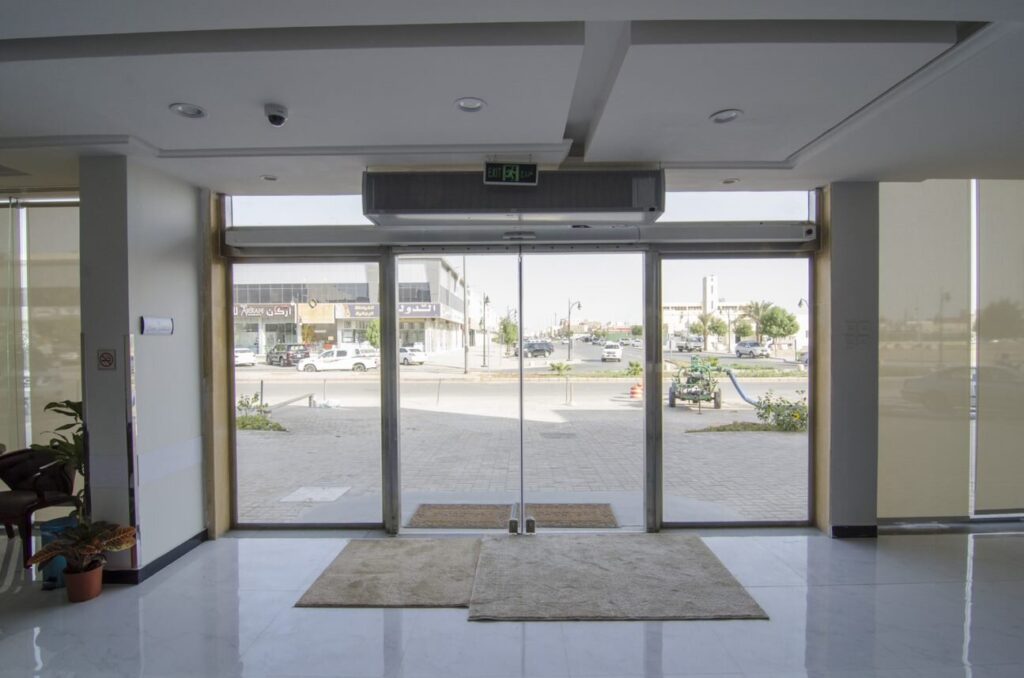 "Stavoklima offers the latest European technologies in the field of air curtains, which improve air quality and efficiently reduce noise pollution. Join Stavoklima's distinguished clients in Saudi Arabia and benefit from its unique services suitable for all types of establishments.
Do not hesitate to contact Stavoklima Saudi air curtain via WhatsApp and learn more about our special offers that meet all your needs to achieve comfort and peace in your workplace. We strive to provide the best technical solutions and excellent service.
Sources: