Air curtains are vertical sheets of air that maintain indoor temperatures and prevent airborne pollutants from escaping inside.
They form an invisible air barrier between indoor and outdoor spaces. Air curtains allow products and people to pass through unobstructed while preventing external environmental factors from entering.
The importance of air curtains Jeddah for commercial and industrial activities
Commercial and industrial activities need an ideal work environment free of unpleasant substances. As is well known in Jeddah, summers are long, hot, humid, dry, and partly cloudy. In contrast, the winters are short, warm, dry, windy, and frequent. Temperatures may reach 50 degrees Celsius. Because of the harsh weather, many difficulties prevent a healthy work environment. We list them for you:
Hot air leaks from the outside towards the inside, which requires double the electrical energy to return the heat as before.
Air moisture collects around air conditioners indoors, causing an uncomfortable and clear atmosphere.
Insects entering the place and disturbing workers or visitors.
Dust entered the interior, disturbing the peace of the place.
Also read: Types of industrial air curtains in factories – Stavoklima
Types of air curtains in Jeddah and the difference between them
At Stavoklima, we have several options for air curtain types that you can adopt for your business in Jeddah. Below we will show you our main classifications:
Air curtains in Jeddah are energy-saving
It is L-I Comfort air curtains, with 25 years of experience. Its design is elegant and visible, so you will find what suits your activity, whether it is a restaurant, hotel, or other. Here are its most prominent features:
Its modern European design will add aesthetics to any place it is placed.
It has the most energy-efficient selection of all air curtains.
It has a remote control range of up to 35 meters.
It is available in several colors and sizes so that you can choose the one that best suits your workplace.
It provides solid insulation that keeps the indoor environment controlled and healthy.
Stavoklima has three types of energy-saving air curtains (LI0, LI MINI, and LI), all of which will surprise you in terms of energy savings and durable insulation.
Luxurious air curtains
The luxurious Stavoklima air curtains have a special design that is in line with the luxurious interior designs of hotels, palaces, and other luxurious commercial activities to add to the place's comfort, attractive appearance, and tranquility. Here are its most prominent features:
Maintaining its primary function of saving electrical waste by adjusting internal temperatures.
Solid insulation from the external environment so that no hot or cold air enters the interior.
Protection from insects and dust and maintaining a clean and healthy indoor environment.
It is distinguished by its multiple color options and the ability to add media advertisements to it.
Available in various different designs and colors.
There are three options for luxury air curtains (luxury tubex air curtains, luxury Arcos air curtains, luxury compact air curtains, and modern Nucleo 3000 air curtains). The options vary to suit any luxury business in Jeddah, which will make you very satisfied with its high-end appearance and mighty performance.
Industrial air curtains
At Stavoklima, we believe in quality, efficiency, and high performance at the most reasonable cost. Therefore, we offer a variety of industrial Axi air curtains, as they are designed for difficult situations and give strong performance. They are characterized by the following:
Fully capable of covering upper doorways.
It can work 24 hours non-stop.
It has a solid structure that withstands shocks.
Withstands temperatures from -49 to +79.
Used in industrial settings, warehouses, and loading areas.
The indoor environment is completely isolated from the outdoor environment thanks to a thick air barrier.
Maintenance-free and easy to disassemble and install.
We offer this type of curtain in four types: AXI 1, AXI 2, AXI 3, and AXI 4, all of which have a luxurious design that adds a lot to your workspace and gives you very good performance.
Also Read: How Air Curtains Help Retail Stores and Malls in Saudi Arabia
The Stavoklima team installed air curtains in Jeddah
In Saudi Stavoklima, we seek to design distinctive models of air curtains to suit the climate of the Kingdom of Saudi Arabia, as we have a team of the highest caliber working in Jeddah to install air curtains in any commercial or industrial activity without stopping any work taking place inside the place.
At Stavoklima, we have completed more than 2,800 projects all over the world.
Stavoklima air curtain installation projects in Jeddah and Saudi Arabia
Here are the most prominent projects implemented by the Stavoklima Saudi air curtain team in Jeddah and the rest of Saudi Arabia.
How did air curtains help improve Dallah Al Baraka's environment?
Dallah Saudi Company is a large group of businesses in the Kingdom of Saudi Arabia and around the world. It specializes in managing huge investments in trade, real estate, and healthcare. The company overlooks the Jeddah waterfront, which causes several problems such as the extreme humidity that comes from the sea and the hot air that lowers temperatures inside the company in addition to the entry of air and insects due to the intensity of external winds.
Therefore, the cooperation between Dallah Al-Baraka Company and the Stavoklima team established an air curtain that solved all problems and gave the place a working environment set to the highest possible standards. After examining the place, the Nucleo 3000 air curtain was chosen after it was accepted by the Architectural and Engineering Department.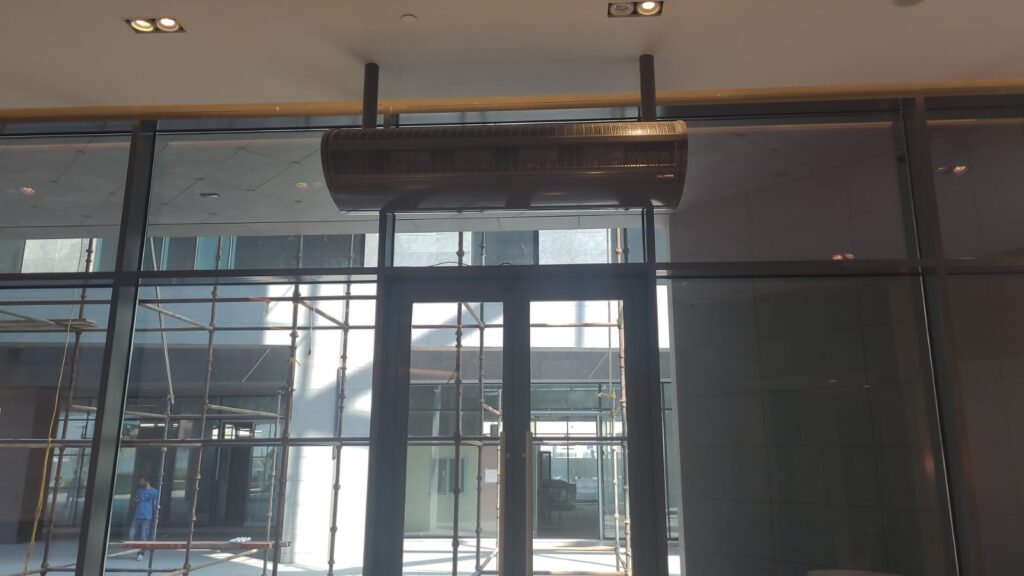 The Nucleo 3000 air curtain was able to repel all moisture factors and prevent dust and insects from approaching the company with a very low noise level and a modern design that added a charming touch to the place. Despite the beauty of its design, it has very powerful performance, and thus Dallah Al Baraka Company was able to create an excellent work environment and be a pioneer in the field of investments.
Type of air curtain in Saudi Arabia at One Square Center
The Saudi One Square Center is a co-working space designed with the finest decorations and receives hundreds of visitors daily from the main entrance. The One Square Center was striving to provide visitors with the best possible work environment, given the presence of several challenges, including the hot weather in Saudi Arabia and the air polluted by dust and insects. Therefore, cooperation took place. Between the center and Stavoklima.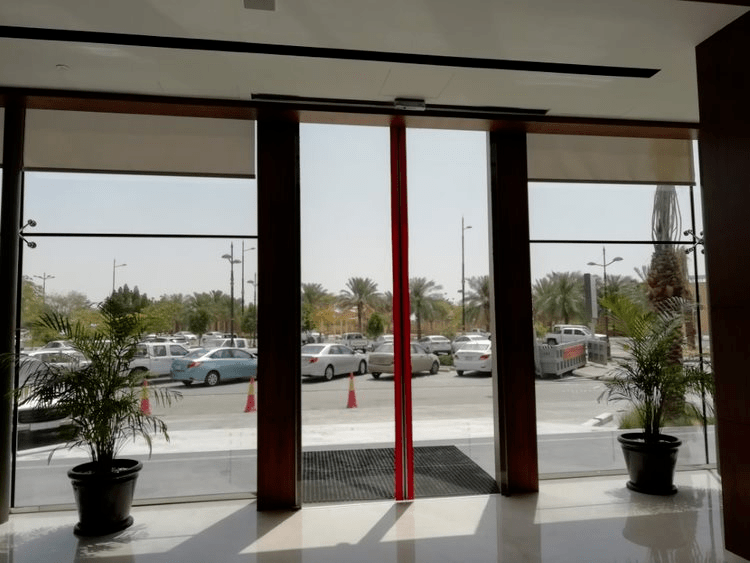 Air curtains at the Ritz-Carlton Hotel, Jeddah branch
The Ritz-Carlton Hotel, Jeddah, is one of the luxurious and beautiful branches, but one of the main obstacles was the hotel's view of the sea and its exposure to wet sea currents, in addition to the hot air leaking into the interior, so there was an urgent need to install an air curtain that was Axial concealed by the specialists in Stavoklima Key. It provides solid insulation, prevents sea currents from disturbing visitors, and provides a comfortable spring atmosphere for workers and visitors.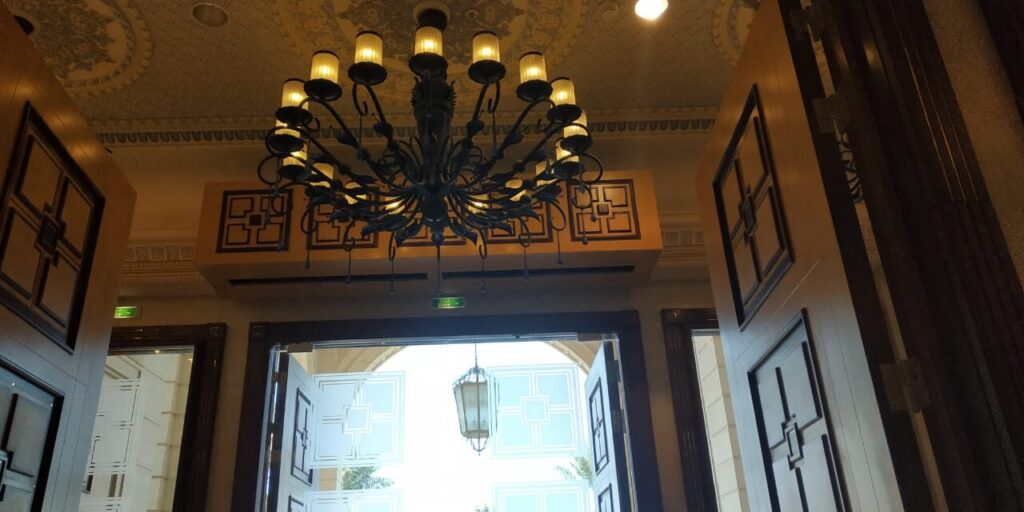 Source: